Background: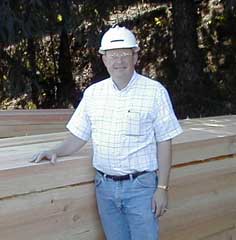 Terry's goal is to provide solution-oriented educational programs to primary processors of wood products; specifically, sawmills. These programs focus on quality and process control improvement with the goal of maximizing the value of the resource through all phases of manufacturing.
Since 1976 personnel from hundreds of sawmills located world-wide have attended these educational programs. Reductions in wood usage and increases in grade recovery account for over $100 million in savings to producers annually.
These savings to producers also mean less timber is used to produce the products American consumers demand to maintain their lifestyle and standard of living. Terry is also a Professor Emeritus, Wood Science and Engineering Department, Oregon State University
Industry Awards:
In 1984 Terry was recognized with the Forest Industries Award for Excellence at the Forest Industries Sawmill & Plywood Clinic and Machinery Show held yearly in Portland, Oregon. The award is presented each year to an industry leader and innovator who has profoundly changed manufacturing practices and is given "for excellence in raising sawmill/plywood plant efficiency." It was presented in recognition for his pioneering work in developing lumber quality control training programs for the sawmill industry.
Contact the Lumber Quality Institute
If you are interested in learning more about our upcoming workshops, please email us at assistance@lumberquality.com or feel free to fill out our contact form with some more information about your business.
Contact Form