Lumber Quality and Process Control
One of two LQI workshops related to lumber manufacturing, the Lumber Quality & Process Control Workshop covers establishing or improving existing Q.C. programs, evaluating manufacturing practices, lumber size control, case studies, and industry examples of excellent quality control programs. Managers and supervisors at all mill levels are the intended audience.
This program has been offered since 1982 and provides an excellent opportunity for new supervisors to not only gain an overview of lumber quality and process control, but also to interact with others involved in quality-related activities
Lumber Quality Leadership
The goal of the Quality Leadership Workshop is to provide information that will help lumber manufacturers move their quality control programs to the next level. The number one reason that most lumber manufacturers fail to realize optimum results is that line employees fail to view quality improvement as their job. They lack ownership of the quality control/assurance program. This workshop provides many tools that managers and supervisors can use to foster employee involvement.
Among other topics, total quality management as it relates to problem-solving teams will be stressed. In addition, topics relating to SPC, communications, competition, and working with change will be covered. This workshop is experiential and allows students to work directly with the concepts presented.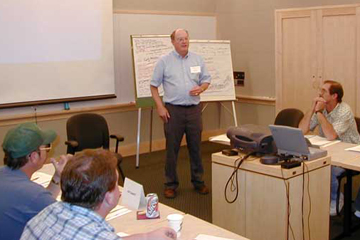 Contact the Lumber Quality Institute
If you are interested in learning more about our upcoming workshops, please email us at assistance@lumberquality.com or feel free to fill out our contact form with some more information about your business.
Contact Form